Name:

Shutterstock
Price:

FREE
Founder:

Jon Oringer
Rank:

80 out of 100




Sell your photos on Shutterstock
---
I see making money selling pictures online as a very good side line way of earning an income from home. Unless you are a photographer by profession, you can still put a few bucks aside by selling pictures online, that you may have taken as a hobby or for fun. Today I would like to give your my view on Shutterstock, one of the leading online brands of online photo marketing and trading, and whether you can make money with Shutterstock.
Shutterstock is one of the many platforms available online for you to purchase pictures from. But it is certainly one of the most renowned, and as such it has great exposure. This means a large scale of clientele base, which in turn means your pictures will find a buyer.
If Shutterstock finds a great deal of competition in this business, it wasn't so when it was first founded by Jon Oringer in 2003. At the time Jon, with his large portfolio of digital pictures, saw that proverbial 'gap in the market' for the need of a platform where anyone and everybody could purchase licenseable pictures for any purpose: from blogging, to marketing, to business use.
And that is why Shutterstock is now one of the most authoritative companies selling pictures for any use at an affordable price.
How it works
---
Shutterstock works based on two different URLs, depending on whether you want to buy pictures or you want to sell them.
If you want to sell pictures, Shutterstock uses the sister site Submit.Shutterstock.com as it has a separate platform for what it calls 'Contributors'.
There you can upload pictures and create your own portfolio. You can then select which use you want Shutterstock to sell your pictures for – you are the author of the pictures and are the only one that can establish how you want your photos licensed.
Once you upload pictures, you are invited to give your picture a title and to link it to most used keywords by regular customers. This will help browsers to this site find your pictures more easily, and to make your pictures more visible at the same time.
Who can sell pictures on Shutterstock
---
Anyone can sell pictures online. The secret is to be able to produce good quality pictures. Otherwise, the subject you shoot, the niche your tackle, all of this will have no bearing in potentially limiting your chances for your pictures to find a buyer. That is the general principle applicable when trying to sell pictures online.
Shutterstock mirrors this principle. But where Shutterstock, I believe, becomes more unique is in expecting an exceptionally high quality of pictures.
As mentioned, I have no special equipment to take my photos, other than my bog standard iPhone. Shutterstock does not make specific requirement for a state of the art photographic equipment, but it does help to be able to produce high standard pictures to upload onto Shutterstock platform. Because, if the pictures are not high quality, Shutterstock will reject them.
This doesn't necessarily mean that you need to purchase a fancy camera. But if you intend to really make bucks out of Shutterstock, it may be an investment to consider.
Tools for contributors
---
I found the Contributor site of Shutterstock most helpful. I have looked around other sites, but ended up going for Shutterstock after realizing that, if quite strict on the selection process of your pictures, Shutterstock however has lots of help available to contributors.
Once you register as contributor, you will be given access to your own dashboard, from which you can upload your pictures, but you can also change your settings and monitor your earnings.
But the impressive tab I make quite regular use of as a newbie in this field is the Insight one, where you can find helpful tips in the Forum and where you are given access to Shutterstock blog for contributors.
The forum is the one tool I particularly enjoy as, like with all forums, I can ask questions and get tons of responses with really great tips.
Can you make money with Shutterstock
---
You already know my views on selling pictures online. It can be a good earner, but solely as a supplement to your main income.
Shutterstock has a payment scheme where the more you earn, the more you are going to earn.
As you can see from the above chart, initially Shutterstock will only pay you $0.25 per picture sold, but as your lifetime earnings get over the $500 threshold, your earnings per picture will increase.
But with Shutterstock, you can also make money from its affiliate program. With this program, not only you earn every time somebody you have referred as contributor uploads one of their pictures, but you also earn every time that the contributor you have referred sells a picture.
In addition to that, with Shutterstock referral program, you earn 20% of your referral's first payment.
Shutterstock is quite keen on getting referrals and on expanding their range of contributors. And that is why it's so eager on getting more contributors brought to the table. The more contributors Shutterstock has, the more pictures covering any topics Shutterstock will acquire the right to sell its license – which in turn means more revenue for Shutterstock too.
And that is why Shutterstock assists affiliate contributors with the Promotion tab, where you will find unique links to promote your portfolio of pictures on social media or on your own website, but where you will also find the promotional link and banners to its contributor affiliate program.
When it comes to monetizing from Shutterstock, the same apply here as with any other avenue. In the end you remain in control of how much you want to gain from this enterprise. The more time and commitment you dedicate to Shutterstock, the more you will earn.
Pros and Cons
---
Pros:
One of the leading online platforms for purchasing original pictures, so it guarantees high sales
Help available for inexperienced contributors (like me) to make the best and most of monetizing on your pictures and on Shutterstock
Very good affiliate program for contributors
Cons:
Very fiscal when it comes to accepting your pictures for quality of your shot.
My verdict
---
As you can see, I have only ranked Shutterstock with a good 80th position out of 100. Please do not read this as a negative point to using Shutterstock, as it really doesn't want to be that. But there are a couple of things that nag at me.
I have mentioned this, I am only an amateur when it comes to picture taking. Dare I say I am quite good at taking pictures of my family and friends, particularly when they least expect it. But my lack of knowledge transpires in the otherwise not very high quality of my pictures.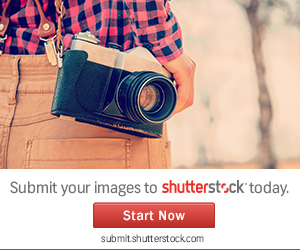 Shutterstock has been quite strict in vetting pictures I have submitted so far. I am trying to build a substantial portfolio of pictures before starting actively promoting it, and I am literally uploading anything and everything – except for my family and friends, in respect of their and my privacy of course. But so far, the fact I am only an amateur has played against me, as Shutterstock has rejected quite a few of my pictures.
On the other hand, I can appreciate why Shutterstock has to verify each and every picture individually submitted. Shutterstock cannot afford to have its reputation tarnished otherwise.
But I wonder whether this means that, if you want to make a success of this online business, you are better off investing in photographic equipment, or in a more sophisticated smart phone – of whether you should even consider taking up a photo shooting course.
Finally, I do not make this a fault unique to Shutterstock, but to all pictures selling websites. Uploading images and matching them to keywords (and you want to tag your pictures with as many keywords as you possibly can, so they get the chance of being sold more easily) can be time-consuming.
And that's why to me using Shutterstock becomes a sideline income. I am all in favour to keeping my eggs in many baskets. But when you work from home, you need to be wise in managing your time to the benefit of those activities that you know are going to bring in the most money.
Shutterstock provides a very good supplementary income, and I can more so see the benefit to be one of its contributors for its very strong and committed affiliate program. Ultimately, it all depends on how much you decide to dedicate to Shutterstock as contributor, and to how proactively you want to market Shutterstock to increase your earnings.
Name:

Shutterstock
Price:

FREE
Founder:

Jon Oringer
Rank:

80 out of 100

 
---
Shutterstock is ideal as source of picture and video material to support your blog website. Find out here how you can build a successful website as a blog or for retail purposes.